Aztec Duel is a great game to for any party. The game is based on the shape of an Aztec Temple and is suitable for all ages, so the whole family get be involved.
The aim of the game is for each player to throw three bolas onto each tier of the frame to enable you to progress onto the next level, Be the first to the top of the temple to win the game. You can play the game in teams to involve more people at once and to increase the excitement in the competition.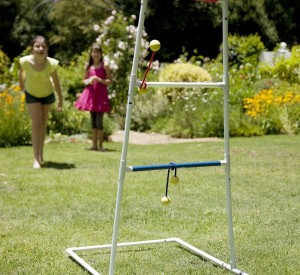 Why not set out a knock out tournament for a number of teams?
Just be warned – it can be highly addictive!