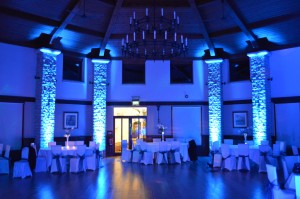 Weddings and other special events go on around the world every day and as each day passes a new memory is formed and another is forgotten. Mood lighting has been used for years to highlight an event and make it more interesting and colorful. This type of entertainment can only be offered by the professionals that have had much experience with putting on a show like this at certain special events.
Soundwave are professionals in this line of work and have been doing it for over 20 years. This is one of the oldest additions people have been using to make their parties more exciting and fun. Event lighting offers something different to your party that people are generally used to seeing, which in turn will make the party or event a memorable one.
Event Lighting That Sets The Mood …
Your next gathering cannot be forgotten, adding lights to your party will really set the mood for a memorable night. They are set up by highly trained professionals with years of experience, it adds a much more beautiful atmosphere to your gathering. Lighting can also be an important part of any function to help set the right atmosphere / theme for your event. Whether it's a wedding with a specific colour scheme or you want to set the right impression / company colours at a presentation evening or product launch.
Using the latest LED Technology we can light a venue in almost any colour and turn the whole room into a colourful lighting display on request. New for 2013 we can now offer Gobo Projection as part of our services, so why not display your company logo or your names on the wall or floor of your venue.
Having Your Party In A Marquee?
We can install event lighting and or disco effect lighting in the roof of your marquee to give you that something special. (By consultation only). These services can be booked separately or in addition to our DJ Service, if you would like a detailed quotation or a more in depth chat then please contact our office.