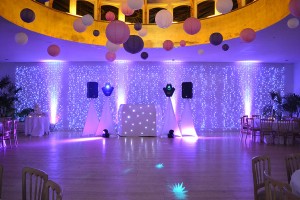 Choosing the right entertainment for your wedding party can be a difficult choice. A Wedding DJ can make or break your party, which of course is one of the key moments of your wedding day that will be remembered for years to come.
The best Wedding DJ's have that special gift of blending the right music, creating a unique atmosphere and a tempo throughout your celebration that reflects who you are, not what worked last week for the DJ at another Wedding, but truly reflects what you want to achieve.
We encourage our couples to start thinking about the types of music they would like and of course not like played months before the day. This allows us to create an atmosphere that is unique to you.
Soundwave Entertainments have become the preferred and recommended choice to many of the regions most illustrious wedding venues, not only for our professional Wedding DJ Service but also for an assortment of additional wedding services to compliment your day.
Contact us for a no obligation quotation for your tailored package