Croquet is rapidly becoming a favourite for any wedding that has suitable outside space for your guests to mingle and relax.
Croquet is low impact (just walking, bending and swinging a roughly two-pound mallet between your legs to hit a one-pound, solid plastic ball), yet it can be highly competitive, strategic, and mentally stimulating, with a major social component where you will make many new friends. All of these characteristics are proven to benefit health and longevity.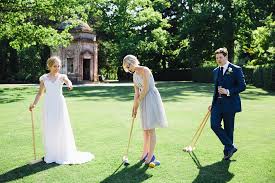 Croquet is not just a sport, it's a lifestyle. Learning the game is a rewarding experience for young and old alike. It is a game you can play for a lifetime – while making friends for life.
Suitable for all ages, great fun for all the family